AccuWeather: Severe weather, flood risk from huge storm to grind eastward into Friday
The risk of severe thunderstorms will tend to overlap much of the area at risk for localized flash flooding through Thursday night and will be focused along an 800-mile-long swath into Wednesday night from southern Louisiana and the panhandles of Mississippi, Alabama and Florida. Farther north, the storms will also threaten the northern parts of Illinois and Indiana, as well as the southern tier of Michigan.
AccuWeather Global Weather Center – May 25, 2022 – A massive and slow-moving storm system will bring the risk of flooding downpours and locally violent thunderstorms to portions of the Mississippi Valley into Wednesday night and then the Ohio and Tennessee valleys as well as the southern Appalachians on Thursday, prior to reaching the East Coast on Friday, AccuWeather meteorologists warn.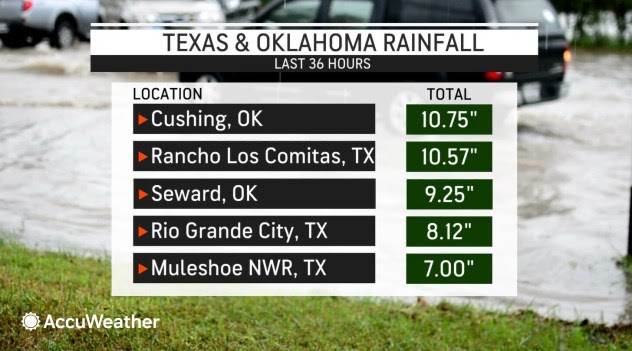 The storm brought a general 3-6 inches of rain to the southern Plains with close to a foot falling on Cushing, Oklahoma, over a 36-hour period into Wednesday morning.

Clouds associated with a massive storm were covering approximately 900,000 square miles of the central United States as of Wednesday, May 25, 2022. (GOES-East/NOAA)
A line of severe thunderstorms attributed to the large system produced dozens of incidents of severe weather ranging from tornadoes to high winds and large hail as it roared southeastward across Texas on Tuesday night, according to AccuWeather Senior On-Air Meteorologist Geoff Cornish said.
"Hail up to the size of softballs fell on Knickerbocker, Texas," Cornish said. "Midland, Texas, was pummeled with hail the size of large apples and rocked with hurricane-force wind gusts to 74 mph. Wind gusts in Sundown, Texas, reached 78 mph."
About AccuWeather, Inc. and AccuWeather.com
AccuWeather, recognized and documented as the most accurate source of weather forecasts and warnings in the world, has saved tens of thousands of lives, prevented hundreds of thousands of injuries and tens of billions of dollars in property damage. With global headquarters in State College, PA and other offices around the world, AccuWeather serves more than 1.5 billion people daily to help them plan their lives and get more out of their day through digital media properties, such as AccuWeather.com and mobile, as well as radio, television, newspapers, and the national 24/7 AccuWeather Network channel. Additionally, AccuWeather produces and distributes news, weather content, and video for more than 180,000 third-party websites.
(Visited 185 times, 1 visits today)