AFP-NJ: Americans for Prosperity-New Jersey Releases Video Highlighting NJEA Union Bullying Tactics
FOR IMMEDIATE RELEASE: November 6, 2017                                                              
CONTACT: Lorenz Isidro, LIsidro@afphq.org or (703) 887-7724
Americans for Prosperity-New Jersey Releases Video Highlighting NJEA Union Bullying Tactics
TRENTON, NJ – Americans for Prosperity-New Jersey (AFP-NJ), the Garden State's foremost grassroots free market advocacy group, released "Ryan's Story," a short video that brings to light the extent to which the New Jersey Education Association (NJEA), the state's teachers union, will bully and intimidate everyday residents to silence opposition. AFP-NJ is committed to showing New Jersey residents how taxpayer dollars flow from their pockets, to the union, to political causes that work against their interests. The NJEA is suing Ryan Curioni for a loss of membership dues for sharing AFP's 2016 Right to Know Initiative on his personal blog.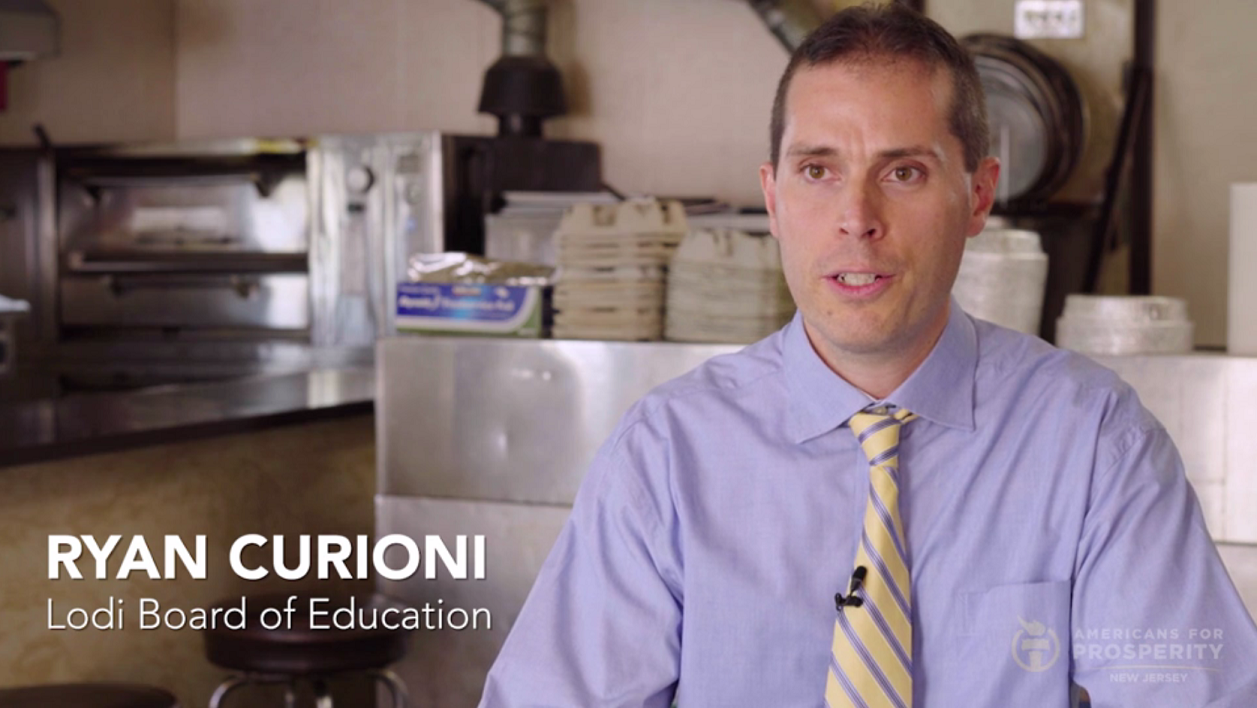 Opening line from Ryan:
"We live in America, you would think that there was free speech but apparently not if you challenge the union. For them to attack me the way they did, it was a clear attack on my free speech and my rights. It's insane."
AFP-NJ State Director Erica Jedynak issued the following statement:
"With New Jersey's teacher union under increased scrutiny, we decided it was time to expose the thuggery and intimidation tactics it uses to silence those who threaten its taxpayer-funded gravy train. Ryan Curioni's 'sin' was providing teachers information about their rights as union employees that the union bosses didn't want them to know. The union's thuggery and intimidation didn't work on Ryan Curioni and won't work on us. Americans for Prosperity activists will continue exposing union corruption and will continue fighting to make New Jersey Right to Work so that every teacher has the CHOICE to join a union."
AFP Director of Policy Akash Chougule issued the following statement:
"The NJEA is the embodiment of everything that is driving the Garden State into the ground and its people out of state. They are a self-interested special interest group rigging the system to their own benefit at taxpayers' expense, shamelessly financing their activity by taking forced dues from teachers who have no say in the matter. It is revealing to watch as they become increasingly unpopular in the state and subsequently step up their attacks on the free speech of courageous leaders like Ryan Curioni. If New Jersey is to stop the bleeding and become a better place for students, taxpayers, and job-seekers, citizens will have to stand up and fight back against the NJEA to protect free speech and enact comprehensive labor and pension reforms that put power back in the hands of the individual instead of the special interests."
Background:
Ryan Curioni lives in Lodi, where he works at his family business, Curioni's Pizza, and serves as a member of the Lodi Board of Education. Ryan started a blog to examine waste, corruption, and abuse in local government, and wrote in May about an AFP-NJ initiative that discussed how workers in New Jersey can opt out of the political portion of their union dues if they don't want to underwrite union politics.
Backlash was swift. The union protested in front of his home and pizza shop. They filed a formal unfair labor practice ethics complaint. They asked him to refund any dues the union loses as a result of his blog post.
Recent and ongoing reporting by a scholar at the American Enterprise Institute outlines how the NJEA is a de facto taxpayer-funded advocacy group that leverages its political clout to structure the system in a way that works against New Jersey residents, something the New Jersey based AEI scholar terms "legal corruption."
For further information or an interview, reach Lorenz Isidro at LIsidro@afphq.org or (703) 887-7724. 
Americans for Prosperity (AFP) exists to recruit, educate, and mobilize citizens in support of the policies and goals of a free society at the local, state, and federal level, helping every American live their dream – especially the least fortunate. AFP has more than 3.2 million activists across the nation, a local infrastructure that includes 36 state chapters, and has received financial support from more than 100,000 Americans in all 50 states. For more information, visit www.AmericansForProsperity.org
###
(Visited 7 times, 1 visits today)